Introduction
Are you searching for a unique and thrilling experience during your visit to Vietnam? Look no further, as the Cu Chi Halfday Afternoon Tour by Fisheye Travel offers an unforgettable adventure that will take you deep into the heart of history. Explore the renowned Cu Chi Tunnels, witness the resilience of the Vietnamese people, and immerse yourself in natural beauty of the region.
Customer Reviews
Harold P, Toronto, Canada - ★★★★★
"Our Cu Chi tunnels speedboat tour with Fisheye was an absolutely amazing experience. Our tour was a small group of just six people, including our family and a lovely Australian couple. Our guide, Rah, was a delightful young Vietnamese lady with a fantastic sense of humor and an impressive level of knowledge. The tour of the tunnels was truly mind-blowing. It must be seen, without a doubt!"
Leslie G, Montreal, Canada - ★★★★★
"The Cu Chi Tunnels Tour by Fisheye Travel was a highlight of our Vietnam trip. The speedboat ride was so much fun, and the tour was informative and fascinating. Our guide was excellent and made sure we had a great time. Highly recommend!"
Eugene S, United Kingdom - ★★★★★
"The Cu Chi Tunnels were incredible. Fisheye Travel truly exceeded my expectations. Highly recommended."
There are many more positive reviews about us on Tripadvisor. You can read it here.
Tour Itinerary
1:00 PM - Hotel Pick-Up and Transfer
Kick-start your adventure as you are picked up from your hotel lobby and whisked away to the central pier by car or minivan. Sit back and let the anticipation build as you prepare for a remarkable journey.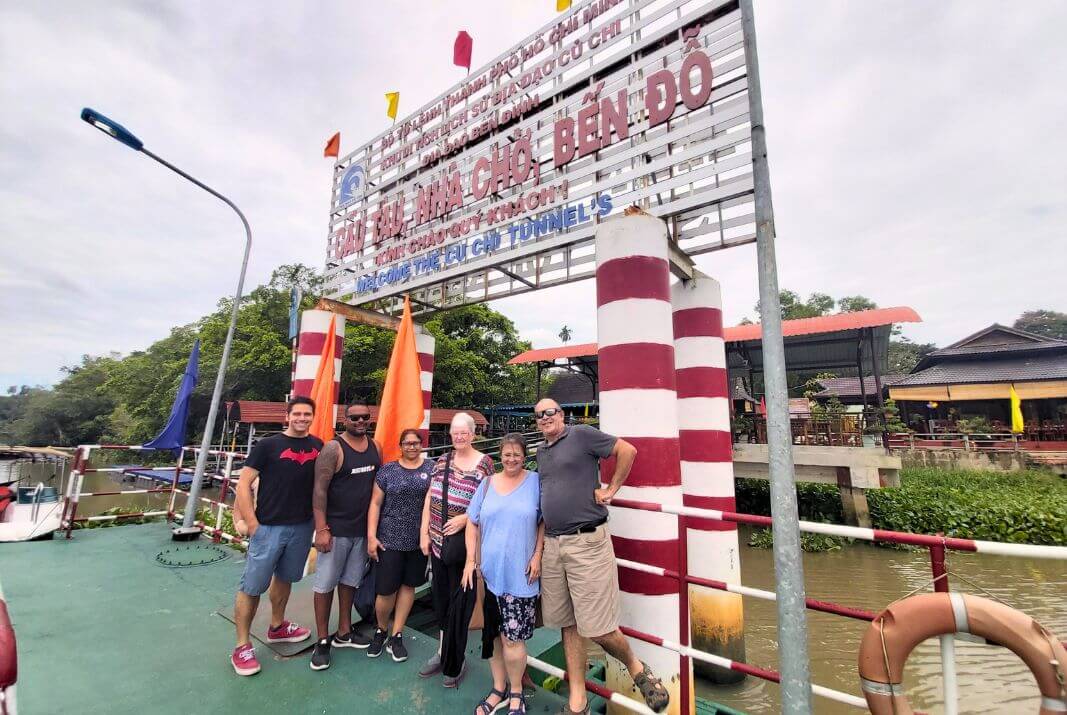 Experience the beauty of Vietnam's diverse landscape as you embark on a speedboat journey to Cu Chi Tunnels. Indulge in pastries, fresh tropical fruits, and mineral water while taking in the tranquil waterway, traditional village houses, and lush vegetation.
2:30 PM - Arrival at Cu Chi Tunnels:
After a thrilling one-hour and fifteen-minute speedboat ride, arrive at the Cu Chi Tunnels area. Take a leisurely stroll into the jungle and witness the remnants of war, including bomb craters, traps, secret entrances, fighting bunkers, air ventilation systems, and constructed living areas.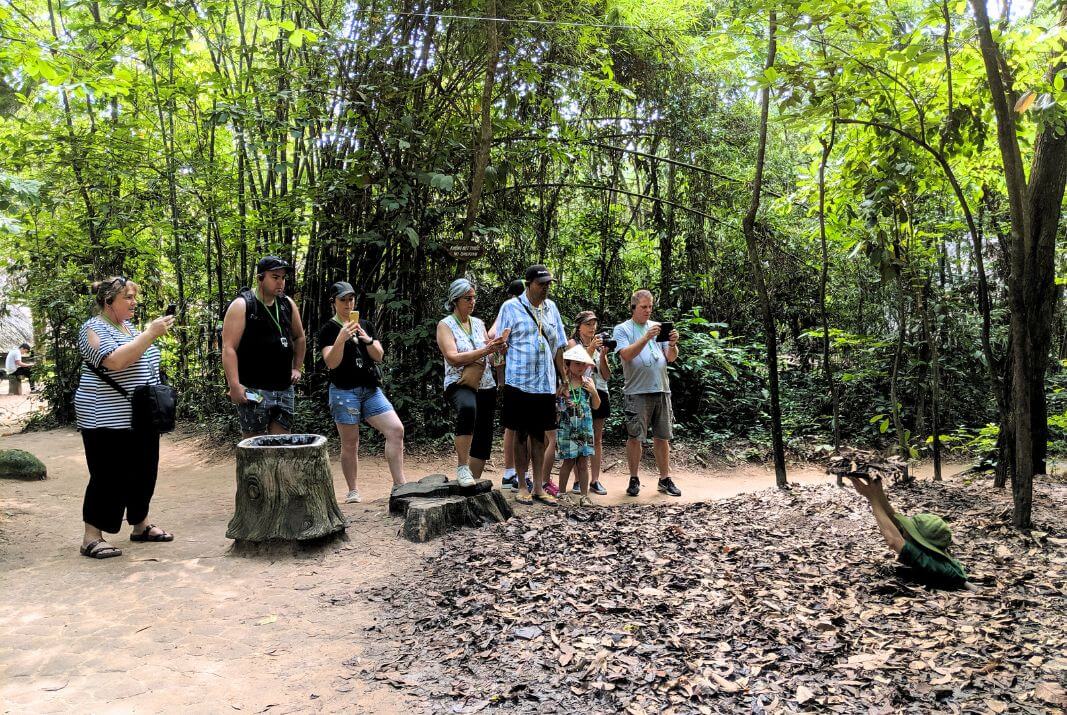 For those seeking an adrenaline rush, seize the opportunity to fire off an AK47, M16, or M60 with real bullets at the shooting range (bullets at your own cost). Discover the fascinating process of rice-wine and rice-paper making, essential elements of Vietnamese cuisine.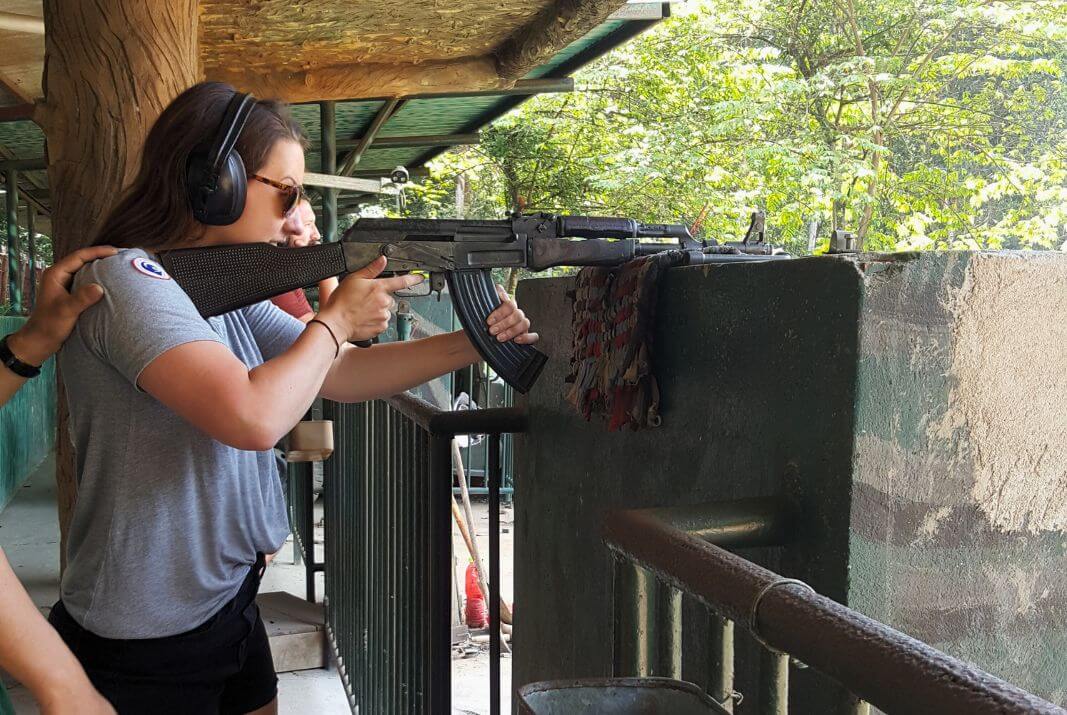 Challenge yourself by venturing into a real underground tunnel. This unique experience allows you to step into the shoes of the Vietnamese Communist soldiers, providing an unprecedented glimpse into their lives. If you have concerns or claustrophobia, feel free to skip this optional activity.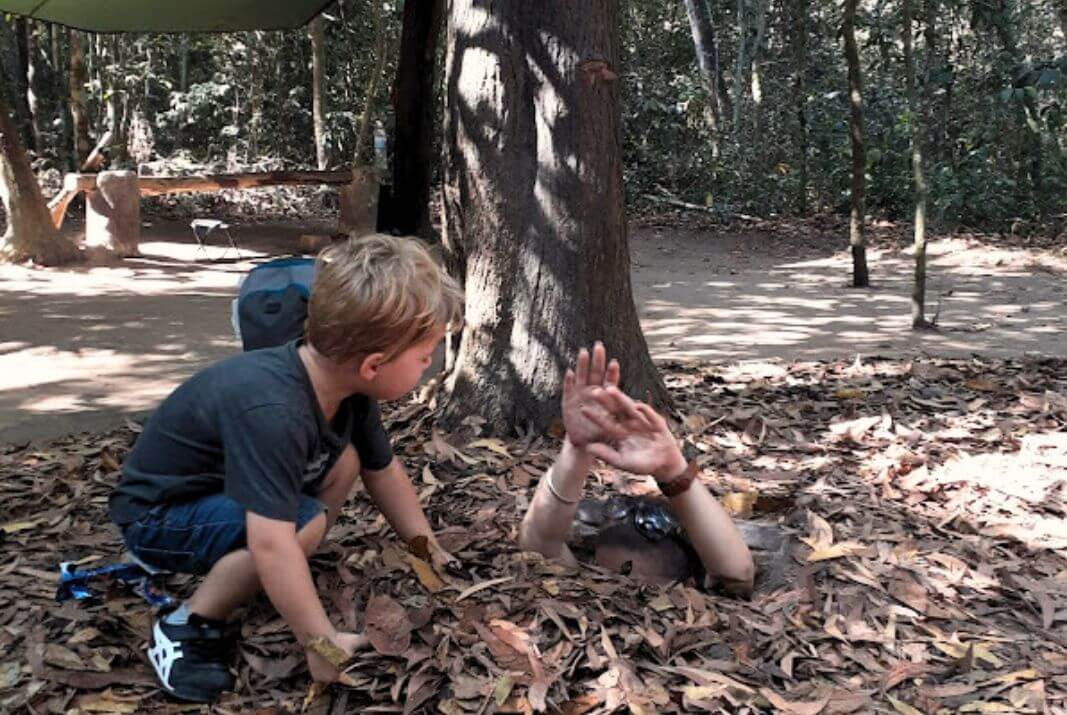 Afterwards Indulge in steamed tapioca root, which was the main staple food of Cu Chi during the war. Immerse your taste buds in the flavors that sustained the locals during challenging times.
4:30 PM - Return to Saigon:
Bid farewell to Cu Chi Tunnels as you board the speedboat to return to Saigon. Reflect on the mesmerizing journey and the profound historical significance you've witnessed.
In Summary
The Cu Chi Halfday Afternoon Tour by Fisheye Travel offers a truly immersive and unforgettable experience. From the speedboat ride along the river, showcasing the contrasting landscapes, to the exploration of the Cu Chi Tunnels and the optional activities, every moment are reasonably designed and attractive. This tour provides you opportunity to witness the resilience of the Vietnamese people and gain a deeper understanding of the country's history. Join Fisheye Travel for an adventure that will leave you with lifelong memories and a newfound appreciation for Vietnam's rich heritage.
If you have any questions or concerns about the tour, you can contact Fisheye Travel's customer service team via phone or email. They will be happy to assist you with any queries you may have.
FAQs:
What should I bring on a Cu Chi Tunnels tour?
It is recommended to bring lightweight clothing, comfortable walking shoes, sunscreen, insect repellent, a hat, and a bottle of water. It's also a good idea to bring a camera to capture pictures of the tunnels and the surrounding area. Additionally, you may want to bring some cash for purchasing souvenirs or snacks during the tour as well as bullets if you're interested in shooting a gun at the firing range.
Can I participate in shooting a gun at the Cu Chi Tunnels? How much does it cost?
Yes, there is a shooting range available at the Cu Chi Tunnels site where you can experience shooting a gun (bullets at your own cost).
The cost of shooting is VND60,000 per bullet (approximately USD3), and there is a minimum requirement of 10 bullets for shooting. If you're traveling in a group, you may have the option to share 5 bullets each with other members of your group.
Is it worth visiting the Cu Chi tunnels on a speedboat tour rather than a bus tour?
Definitely, yes. Opting for a speedboat ride offers a quick and fun way to go to the tunnels. Instead of spending time stuck in traffic, you can enjoy a scenic journey along the Saigon River and take in beautiful views of the city and its surroundings. The speedboat ride also provides a unique perspective of the region and makes your trip to the tunnels a truly memorable experience.
You can refer to other interesting tours of Fisheye Travel: